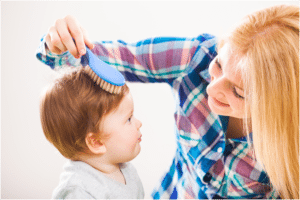 Your Babys First Haircut is an achievement in their young lives. We aim to make it as safe, gentle and comfortable experience it can be; by providing them with movies, toys, balloons, lollipops, and picture books to look at while our gentle stylists shape their hair into a great new "hairdo."
Rainbow Kids offers a safe, sweet and fun environment to make the first haircut experience memorable and comfortable. Our experienced team of stylists is specially trained to work with the littlest customers and know all the tricks to get the job done right.
To make the haircut more enjoyable, you may want to:
Bring them to check out the salon early to become familiar with their new surroundings.
Explain to them about what will happen and that it won't hurt a bit.
Let them watch you, a sibling, or another child getting their hair cut. Seeing the haircut is understanding.
First Haircut Package:
Your child's first haircut is an important milestone! Each first haircut comes with a special certificate with a keepsake lock of hair attached.
Call us today to make an appointment –
Rainbow Kids Hairstyling Locations