Rainbow Kids Hairstyling carries the highest quality specialty hair care products and brands to help keep your kids hair healthy.  These hair care products will protect your children from Lice, Chlorine Damage and help with the tangles.
Specialty Hair Care Products
Kid's Knotty Hair:
It's no secret that maintaining beautiful healthy hair requires good care. Dealing with tangles in your child's hair can be time-consuming, tearful, and a frustrating task for both of you!
Fairy Tales Tangle Tamers:
A Natural detangling and smoothing solutions for unruly knots & curly tops: Super charged formulas transform hair to soft, silky perfection.
Natural Keratin extracts strengthen, smooth and detangle all hair types.
Instantly calm, eliminate frizz and moisturize with Panthenol and Vitamin E.
Comb thru with ease to eliminate struggle with comb and brush.
Perfect for all hair types.
Gluten, soy, dairy and nut free.
Circle of Friends Detangler:
Sofia's Pineapple Detangler:  This hydrating detangler helps tame pesky tangles. Our lightweight formula conditions hair from root-to-tip without weighing it down or leaving a greasy residue behind. Designed for all hair-types, including frizzy, curly style
Nadia's Blueberry Detangler: This detangling mist helps to improve hair's softness and manageability. Infused with Panthenol and Rice Protein, this lightweight product helps reinforce hair while taming frizz and flyaways.
Ana's Raspberry Detangler: It helps to improve hair's softness and manageability. Infused with Panthenol, this lightweight product conditions hair while taming frizz and flyaways. Hair is left detangled without a greasy residue.
Original Sprout Miracle Detangler:
The champion of detanglers, our professional formula makes tough tangles history. Our number one selling Miracle Detangler is essential. Tangles release immediately making combing effortless. Leaves hair silky, soft & naturally fresh!. Combing is fast, painless & safe.
Lice Defense:
Hair care products that contain a real
amount of essential oils like mint or tea tree have been proven to repel lice.
What do I need to know about head lice?
They can live up to 30 days and can lay 4-5 eggs per day.
Can live off a human head for up to 48 hours and live on for approx 30 days.
They are most common in children 5-12 years old because of their play habits.
It's not about a lack of cleanliness. In fact, lice prefer clean, healthy heads.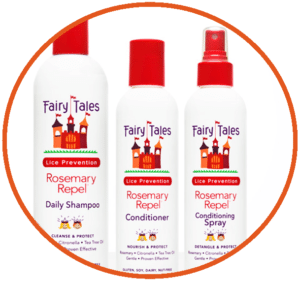 Fairy Tales Rosemary Repel® Lice Prevention:
#1 recommended by pediatricians, school nurses, and moms since 1999: Clinically proven to help prevent head lice with organic herbs and natural plant extracts.
Rosemary Repel Shampoo, Conditioner, & Leave in Conditioner – Spotlights:
Cleanse, moisturize and keep bugs away!
 Proprietary blend of organic Rosemary, Citronella, Tea Tree and Geranium oils clinically proven effective to help prevent lice.
Jojoba and Chamomile hydrate, moisturize and soothe the scalp.
Gentle, safe and effective for daily use for the entire family.
Free of sulfates, harsh chemicals, and toxins.
Gluten, soy, dairy and nut free.
Circle of Friends Lice Defense and Tea Tree Products:
Tea Tree products gently remove dirt, oil, and buildup as it balances and tones hair. The Pro-Vitamin B5 and vegetable glycerin hydrate and condition to leave hair feeling soft, clean and healthy.
Paul Mitchell Tea Tree Products:
Paul Mitchell tea tree shampoo and conditioner contains Tea Tree Oil, Peppermint Oil, Rosemary, and Lavender Oil. All ingredients, except Lavender, are also good for smothering & killing lice.
Chlorine Damage:
Swimming is one of the best full-body workouts out there, but with one small drawback: The annoying bond that forms between chlorine and your hair. Chlorine can damage it, make it brittle, and for some, even turn your hair green.
Swimmer's Hair Care
Helps prevent buildup of minerals and chlorine
Safe and gentle for all ages and hair types
Products for before and after swimming to protect hair
Circle of Friends Swim Product Line: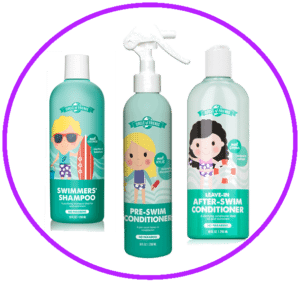 Kylie's Pre-Swim Conditioner:
This pre-swim conditioner spray is perfect for using before a day spent in salt water or the pool. This leave-in formula helps support healthier looking hair.
George's Swimmers Shampoo:
Our clarifying shampoo helps to remove chlorine and product build-up to reduce the potential for discoloration. Coconut-derived surfactants clean while maintaining softness. Hair is left healthier looking and vibrant.
Emma's After Swim Leave in Conditioner:
Perfect for after swimming, our conditioner helps moisturize and detangle hair. The added antioxidants and vitamins are perfect for use after a day spent in sun, salt water or the pool. Jojoba and Olive Oil help to replenish hair with moisture.
Malibu Swimmers Shampoo and Conditioner
Improve the look, feel and health of your hair every time you swim!
Naturally eliminate elements (chlorine, bromine, copper, calcium, lime or salts) that can make swimmers' hair look and feel damaged.
Draw out buildup caused by exposure to pool, spa and ocean water with a crystallized antioxidant natural wellness treatment
Lift out green discoloration by removing copper buildup (it's not chlorine, learn more)
Remove chlorine odor
Nourish, strengthen and protect while preventing further damage
Strengthen hair from the inside out for body and bounce
Protect and preserve shine and hair color with a kit specifically designed for swimmers containing a daily wellness shampoo (free of sodium thiosulfate and other harsh ingredients common to many other swimmers' shampoos) and conditioner, plus weekly natural treatments, for incredible lasting results.
Call us today to make an appointment –
Rainbow Kids Hairstyling Locations